Séance Centre Double Book Launch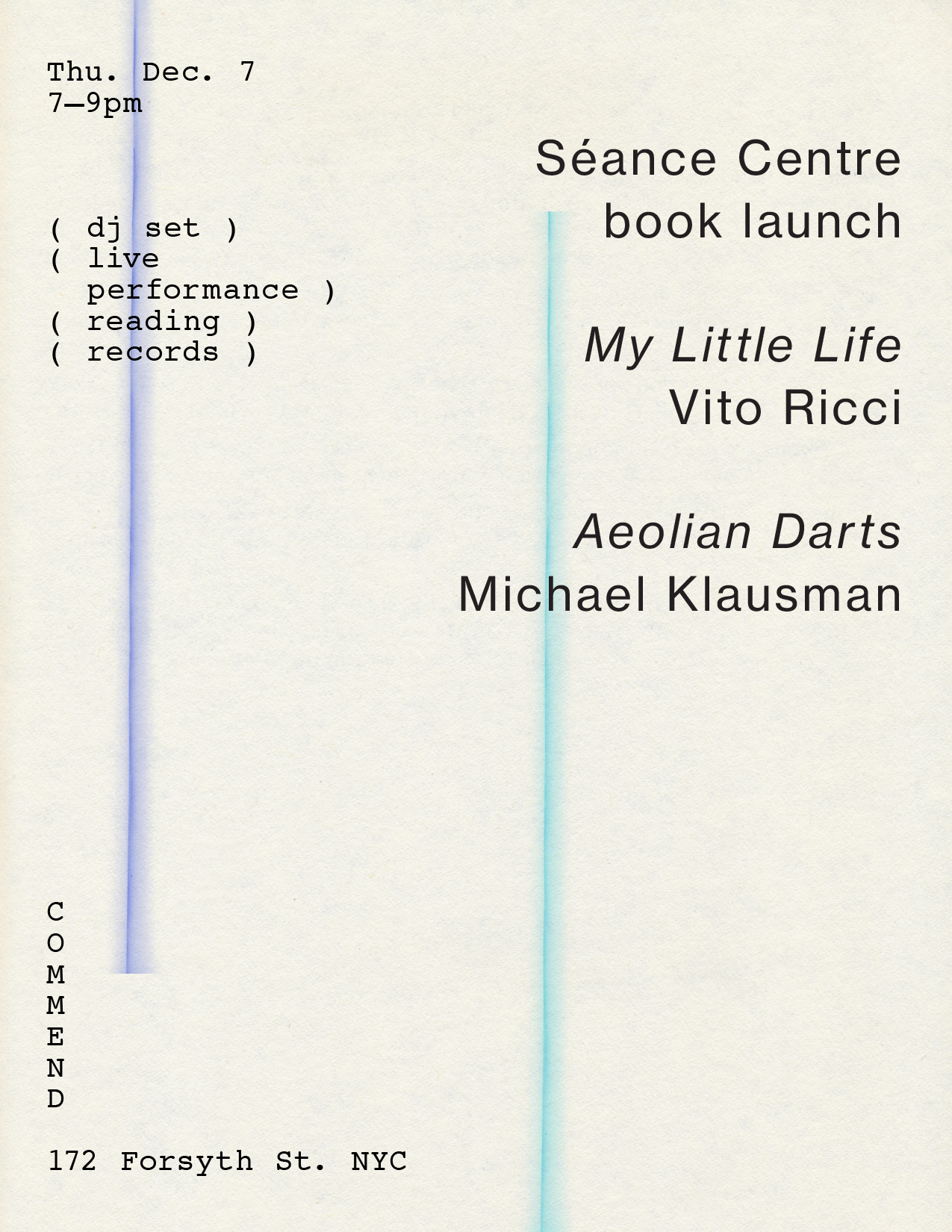 Thu. Dec. 07
, 7-9pm
Séance Centre Double Book Launch:
My Little Life by Vito Ricci
Aeolian Darts by Michael Klausman
w/ DJs + live performance / reading  +++  records
My Little Life is a collection of short stories by composer, musician and near draft-dodger Vito Ricci about his experiences in New York City, Mexico and Vietnam in the late 60s. An outspoken pacifist, Ricci struck a deal with the US army and ended up as a cook in a US army base, feeling more kinship with the Vietnamese staff who worked there than the American soldiers. The vernacular style of the stories give the impression of a memorable conversation with a close friend on the streets of NYC, a friend who's little life was full of big events.
Vito Ricci was the house sound engineer at NYC's legendary Poetry Project for over 20 years, often providing improvised guitar and electronics for readings. For this collection of stories he recorded a series of short electronic pieces which act as portraits of the Vietnamese characters in the book, audio memories of good friends from another time and place. These pieces are on the accompanying cassette and available as a download from the Séance Centre website.
Born and raised in Kansas, Michael Klausman currently lives with his family along Colorado's Front Range. Since being expelled from University for excessive library late fines, he has gone on to work for a handful of influential record stores, and now helps produce reissues of obscure & out-of-print albums for various labels. He is also the co-founder of WRY, a small poetry press that operates out of his garage, and which mostly specializes in letterpress publications of obscure & under-known poets. He considers his own work to exist in a continuum with the small press poetry and avant-garde movements of the 1960s & '70s, citing the work of Emmett Williams, Frank Kuenstler, Robert Grenier, & Clark Coolidge as being central to his practice, along with the mental detritus that accumulates from reading too many Early Music & Ethnomusicological album liner notes.
Also available from Séance Centre evening: Michel Banabila's Trespassing (2LP): Trespassing is a double LP compilation focussing on Dutch electronic artist Michel Banabila's incursions into otherworldly and imagined realms. LP1 is a compilation of works spanning over 20 years that acts as a bridge between his earliest work and his contemporary practice. LP2 is a reissue of his early masterpiece Marilli, a highly sought-after album that acts as both an LSD inspired DIY tribute to Byrne and Eno's Ghosts and a youthful exploration of Banabila's personal background and his experience as a squatter in Amsterdam in the early 80s.
Learn more about Séance Centre  here