Ricardo Dias Gomes Live at Commend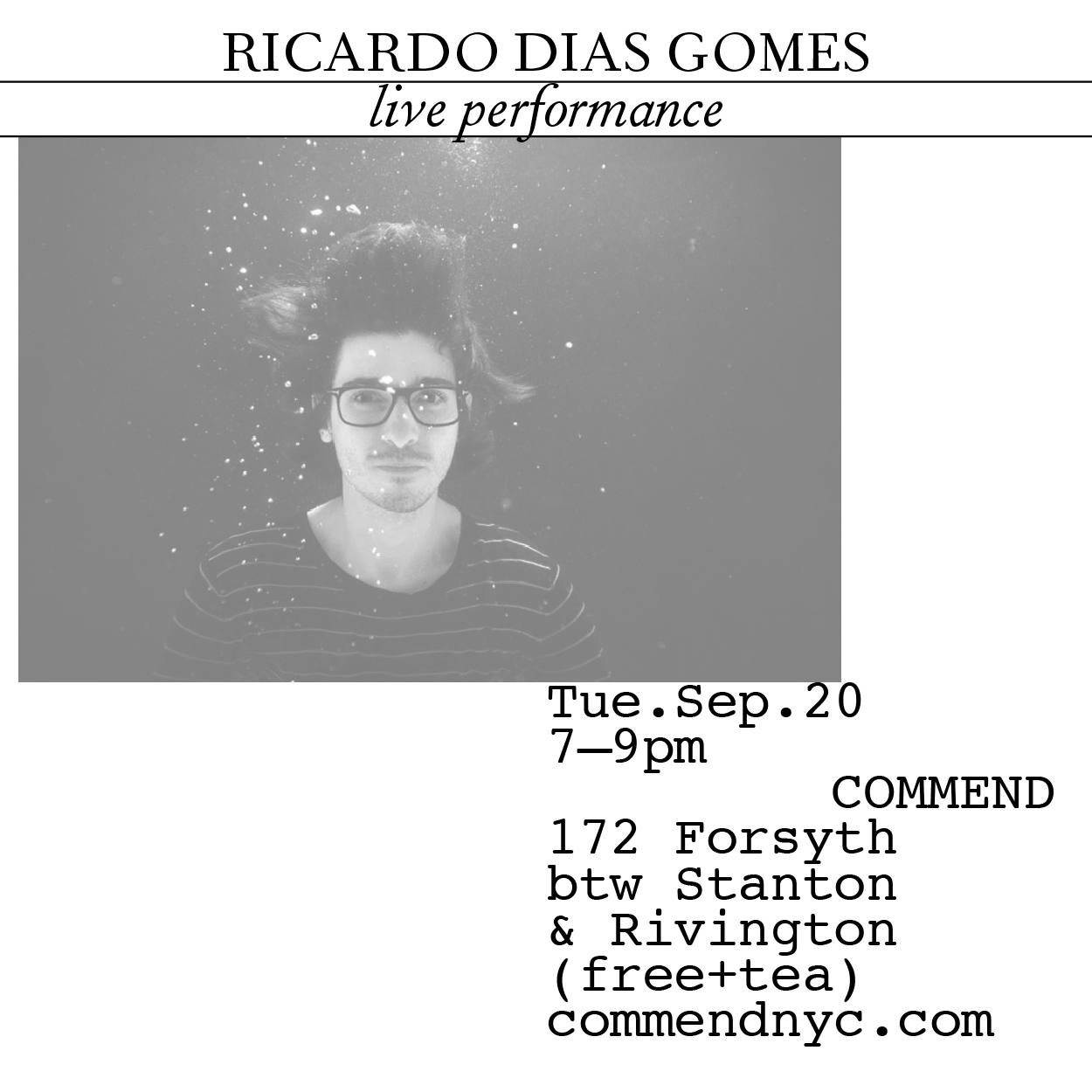 Tue. Sep. 20
, 7:00-9:00pm
Ricardo Dias Gomes' first solo album, "-11" (2015) is an exercise in unbroken mindfulness, where each sonic element is used purposefully if not plainly.
There is an evocation for sacred spaces within these eleven songs: for vastness divided by towering organ pipes, for wind passing through cracks in old stone, for prayer resonating within marble. And where the spectrum shrinks, an intimacy that is conveyed through a hushed human voice, meticulously controlled drone, and a dedicated finger-picking of the guitar and plucking of key(s).
Piety is impressed upon the listener through a mingling of (historically spiritual) musical styles: the Baroque, 6/8 circular keyboard melody of "Plentitude furtiva;" the rich epic plainsong of "Viagem ao espaçio" (and the a capella gregorian chant of "Do seu tempo fallo"); the adaptation of 20th century South American acoustic rock traditions in "Junta-espírito."
In "Voei," this devotion become sentimental. Beginning and ending with a solitary guitar, the simple addition and subtraction of instruments in slow communion convey a childlike romanticism that is buried within even the most solemn of songs. Dias Gomes' voice is almost a shadow of the melody, which soars cathartically at the song's most instrumentally rich moment amidst a warm drone; a tacit confession.
This collection exists in a place where the most concentrated reflection becomes almost sleep, but without dream. That moment before repose where one's sense of self, of one's body, turns perfectly lucid. When every inch of skin — every muscle, every minimal mechanism of the living body — resonates. Enlightened as adult not fully conscious, or wise in that ancient way of a child. In this sense it is a record about simply connecting – remotely, closely, celestially and earthly.
We are honored to host Ricardo for such connective live performance on Tuesday July 20th, from 7-9pm. We hope you will join us in praise.