Half Waif – Lavender – Listening Party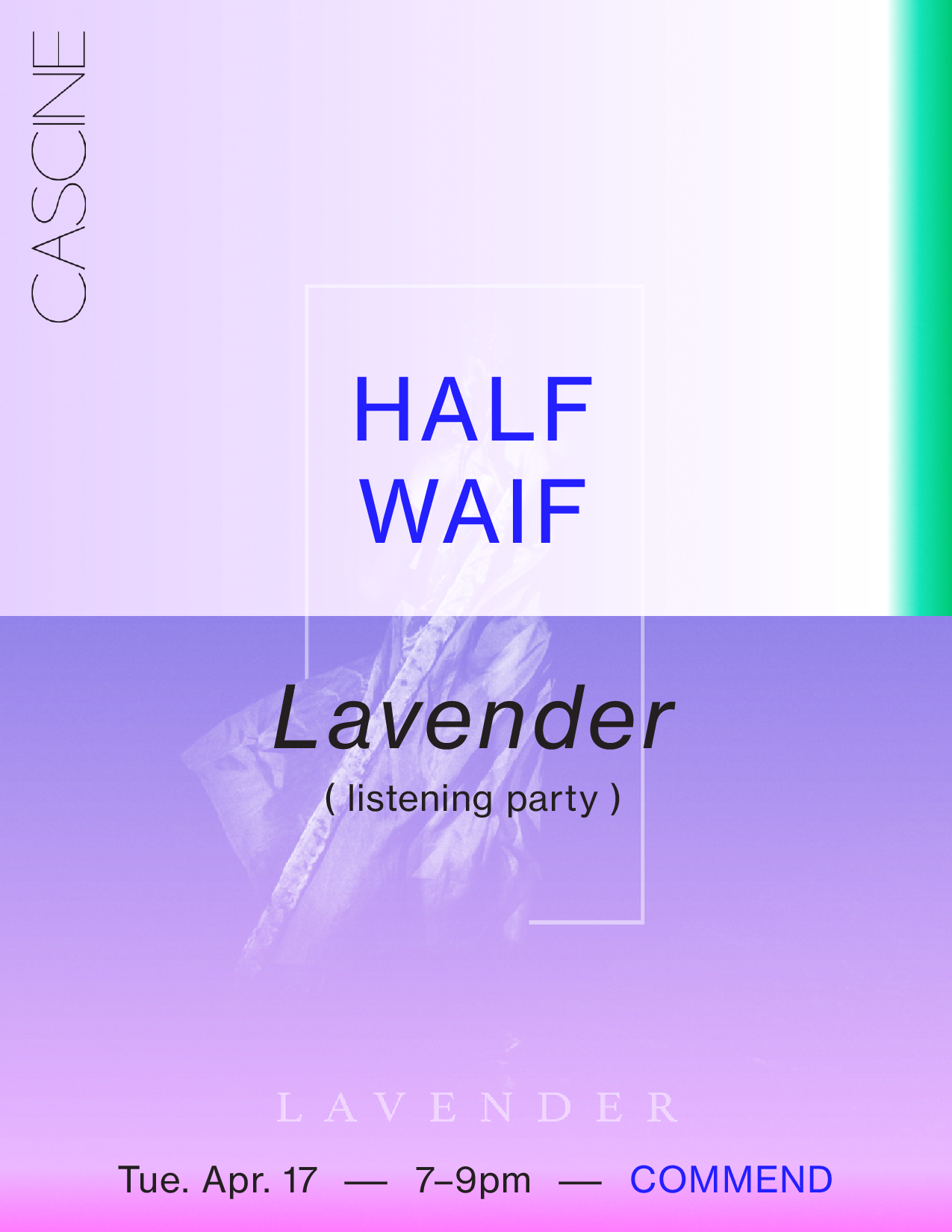 Tue. Apr. 17
, 7-9pm
Half Waif began in 2012 as a vehicle for the thoughts, stories and songs of Nandi Rose Plunkett. Since then, alongside bandmates Adan Carlo and Zack Levine, Half Waif has created a powerful sound that's designed to be both immediate and experimental — song structures that shift and interlock underneath swells of synth, surges of percussion and undulating melodies upon which ride waves of intricate vocals. Lyrically, Half Waif traverses complex emotional landscapes. Influenced by Nandi's Williamstown, Massachusetts, upbringing as the daughter of an Indian refugee mother and an American father of Irish/Swiss descent, Half Waif's songs are forever searching to understand what it means to be truly "home."
In the span of three years, Half Waif has self-released two EPs and two albums, with 2016's Probable Depths garnering the attention of the worldwide music media, including NPR singling out the track 'Turn Me Around' and Pitchfork awarding it their coveted Best New Track distinction. In 2017, Half Waif joined the Cascine family to release their widely acclaimed form/a EP – a collection of mood-driven songs that expand on the project's exploration of place-making. That same year, Cascine reissued Probable Depths, giving the album its first ever vinyl pressing. Half Waif spent the bulk of the year on near-constant tour supporting Julien Baker, Iron & Wine, Mitski and Land of Talk, while also headlining runs in America and Europe.
2018 will see Half Waif release their newest album, Lavender. Opening a new era for the project, this album expands upon themes of travel and leaving home to include connections Nandi forged with the women in her family.
Join us Tuesday,  April 17th at Commend as we celebrate the occasion with a listening party and performance.