Fundraiser for Undocumented Communities affected by Harvey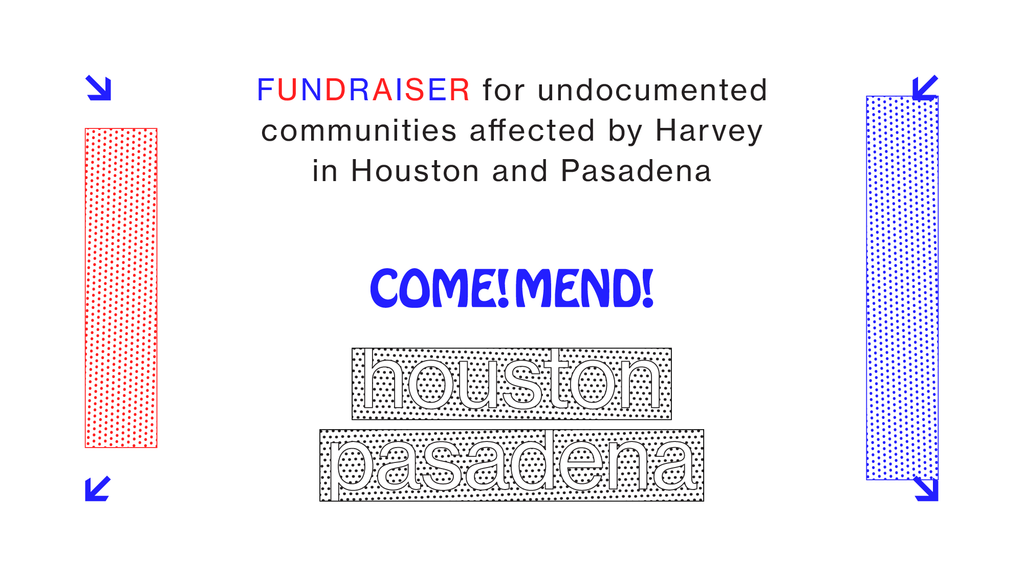 Sat. Oct. 21
, 6:00-8:00pm
Commend, Styles Upon Styles, & Brown Privilege (brownprivilege.com) PRESENT:
A FUNDRAISER FOR UNDOCUMENTED COMMUNITIES AFFECTED BY #HARVEY IN #HOUSTON & #PASADENA
PERFORMANCES BY
Denitia
Longer
DJ SETS BY
Maria Chavez
SAREEN
8PM
96 MORGAN AVE
BROOKLYN, NY 11237
$15 SUGGESTED DONATION BENEFITING THE HOUSTON UNDOCUMENTED COMMUNITIES FLOOD RELIEF FUND: www.youcaring.com
Harvey hit Texas on August 25th, 2017 as a Category 4 hurricane, causing unprecedented damage to Houston and Pasadena Texas. FEMA Director William Long, labeled it as the "worst disaster Texas has ever seen."
An estimated 575,000 undocumented immigrant families live in Houston and its surrounding suburbs. Many have lost it all.
Undocumented immigrants may be eligible for Crisis Counseling or Disaster Legal Services, and other short-term emergency aid from FEMA. However without a social security number they don't qualify for cash assistance.
The rebuilding process is estimated to take years and cost billions. At this time it is imperative that we come together and collectively help rebuild and assist those most vulnerable.
Any donation that you can spare, no matter how large or small, is greatly appreciated.
Donations will be distributed to undocumented families who lost their car or home due to Harvey. Because of limited amount of funds, a portion will be given to those affected most severely.
•••••••••••••••••••••
Harvey tocó tierra en Texas el 25 de agosto de 2017 como un huracán de Categoría 4, causando daños sin precedentes a Houston y Pasadena Texas. El director de FEMA, William Long, lo catalogó como el "peor desastre que Texas haya jamás visto".
Un estimado de 575.000 familias de inmigrantes indocumentados viven en Houston y sus suburbios circundantes. Muchos lo han perdido todo. Debido a su estatus de indocumentados, cientos de miles no califican para ayuda gubernamental, como FEMA.
Se estima que el proceso de reconstrucción toma años y cuesta miles de millones. En este momento es imperativo que nos unamos y ayudemos colectivamente a reconstruir y ayudar a los más vulnerables.
Cualquier donación que pueda brindar, no importa cuán grande o pequeño, es muy apreciado.
Las donaciones serán distribuidas a las familias indocumentadas que perdieron su automóvil o casa debido a Harvey. Debido a la cantidad limitada de fondos, se dará una porción a los afectados más severamente.