Sonic Guided Meditation / Ambient Set with C. Lavender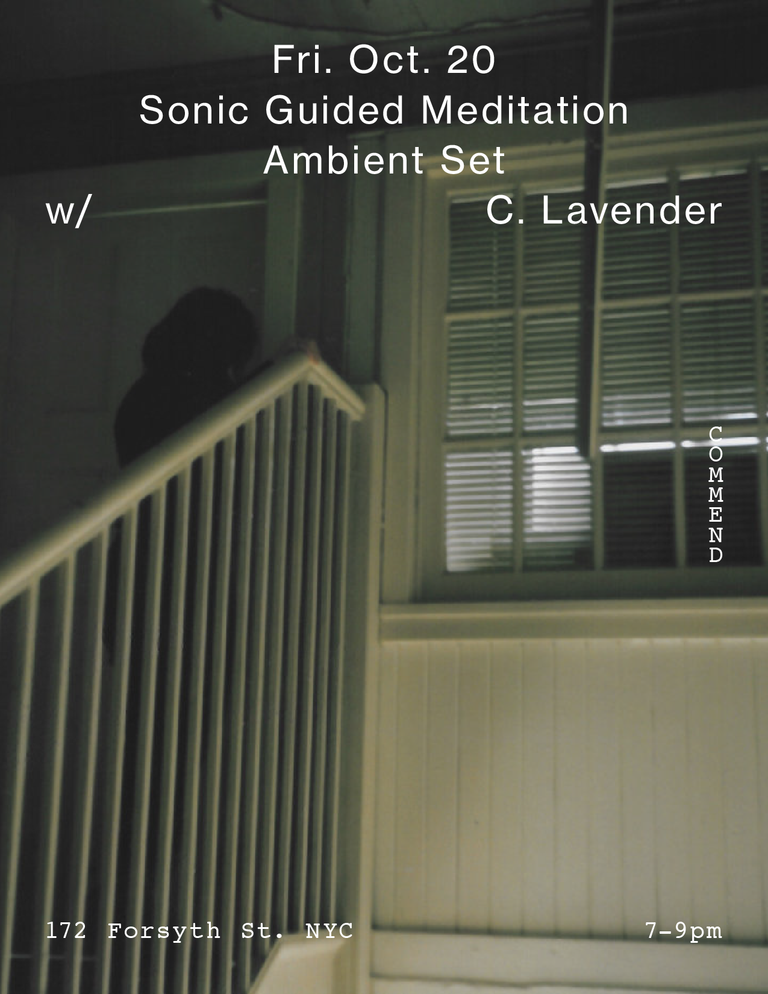 Fri. Oct. 20
, 7:00-9:00pm
Hudson Valley-based sound healer and artist C. Lavender will lead a brief lecture on modern notions of mental wellness before guiding us through listening meditations and concluding with an ambient set.
Suggested donation: $10
RSVP + Donate at  commend.ticketleap.com
****
C. Lavender is a Hudson Valley based sound artist, healer and educator whose work spans live performance, recording, installations and workshops. She seeks to create an immersive aural landscape for the listener, an experience which is intensely physical, emotional and ultimately cathartic. As a sound healer she has hosted meditative workshops at venues such as The Rubin Museum, MoMA PS1, The Brooklyn Botanic Garden, Maha Rose and more. Her new full length album, "Vanishing Light" (Hot Releases) was recorded in a semi-abandoned 1920s elementary school building which was converted into a county mental health center in the 1970s.
On Friday, October 20th, C. Lavender will give a brief lecture about the recording process for her new album, and its reflection on modern notions of mental wellness, afterward guiding the audience through listening meditations including ones she learned while studying Deep Listening with Pauline Oliveros. Much of the evening will involve a live Sonic Guided Meditation which utilizes brainwave altering tones played through specialized software to help the listener obtain a meditative state. To conclude the evening, Lavender will keep the spirits lifted with a seamless ambient set.